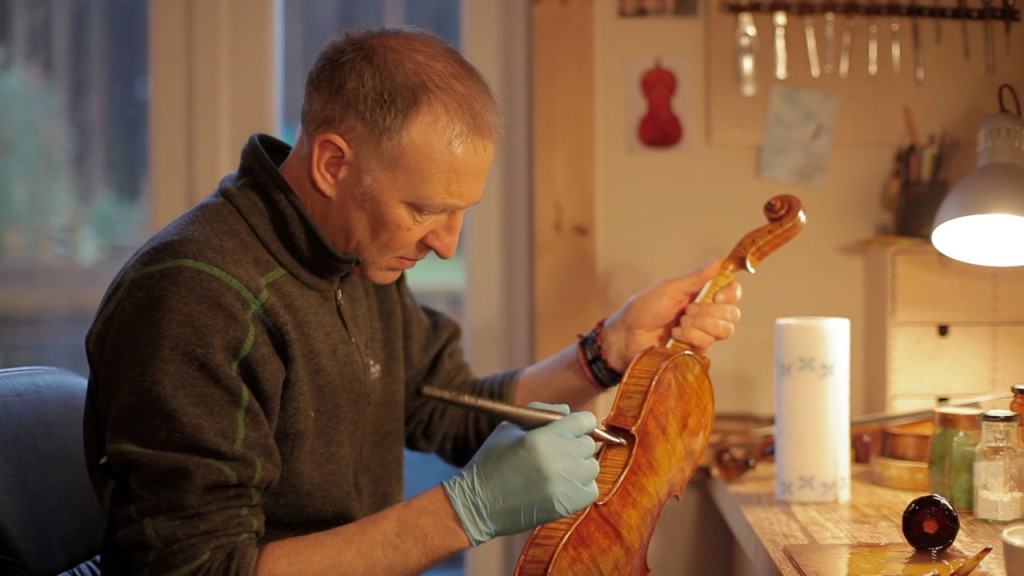 Testimonials
I received my violin, a Guarneri del Gesu 'The Kreisler' model, in July 2019. It has the rich dark sound on the lower strings, and sweetness in the upper register, that I have been looking for. Over the last couple of years it has been such a pleasure to get to know this violin! It keeps evolving and opening up and has a lovely resonance and character. Colin was very accomodating with my request for the neck to be as narrow, within reason, as possible. He kept me regularly updated throughout the making process, it's really interesting to see photos of how the violin becomes itself, then get to enjoy playing it!
Kirstin Drew
Freelance musician - Royal Scottish National Orchestra, Scottish Ballet Orchestra & Halle' Orchestra
---
I commissioned Colin to make me a Guarneri model violin, of which I've been the proud owner since 2018. He helped me in choosing what I wanted, kept me well informed as to where he was in the making process, and three years later I'm still delighted with my beautiful violin. I loved the mellow tone straight away, but it has also developed and matured hugely in the time that I've been playing on it. I find the sound is even and reliable across all strings and registers, blends nicely in orchestra but is strong enough to hold its own in big loud pieces. Visually the violin is also stunning – I love the colour of the varnish and the aged markings.
Christina Knox
Violin in the BBC Philharmonic
---
I received my new Andrea Guarneri model viola from Colin in January 2021. It is absolutely beautiful to look at with the personalised detail I had asked for. The colour of the varnish is a lovely brown with an aged effect and the finish is very tactile, especially the neck. This viola is light to hold which is also an important feature I had asked Colin to consider for me. Since the very first week, the sound has been slowly waking up and mellowing. The variety of colours I can produce with such a light touch is very rewarding. I really don't have to work hard to hear myself in the orchestra setting as this viola has power when needed. I had also spoken to Colin about the stop not being too much of a stretch for me which he accommodated in this Guarneri model. I am very happy with my new viola and am still finding new sounds which is making practise time very enjoyable.
Fiona Robertson
Viola in the BBC Scottish symphony orchestra
---
The viola I commissioned from Colin Adamson and have been playing since 2020 is an exceptional instrument.
It is beautifully made and possesses a rich and dynamically responsive tone that I have loved since the first time I played it.
This Andrea Guarneri model is so easy to play. The clear, transparent sound speaks quickly and projects with real power to the back of the hall.
I have played Colin's viola in solo, chamber and orchestral repertoire with great success and heartily recommend his instruments to anyone wishing to commission a new instrument.
David Greenlees
1987-1993 Violist Member of the English Chamber Orchestra, 1993-2003 Principal Viola Royal Liverpool Philharmonic Orchestra, 2003-2018 Assistant Principal Viola Tonhalle Orchestra
---
I am so delighted with my Maggini viola made by Colin. The beauty and craftsmanship are incredible, while the instrument itself is easily playable and a good weight for prolonged periods of playing. I am particularly happy with the quality of sound and tone colours which I continue to discover playing my Maggini. Using gut strings, the A-string has a strong, bright, almost cello-like quality, while the lower strings create a dark and smoky, yet powerful tone. I always look forward to playing my Maggini!!!
Ronan MacManus
Freelance viola player and teacher, London
---
I have been playing a Colin Adamson viola since 2008 and love it as much as the day I first got it. For a smaller viola (15.5 inches), it still produces a rich, nuanced tone which is even across all four strings. Visually, the instrument is beautiful with the varnish bringing out the natural grain of the wood. I am very happy with my viola and would thoroughly recommend Colin Adamson to any instrumentalist looking for a quality instrument.
Ian Fair
Violist in the Royal Liverpool Philharmonic Orchestra
---
When I saw the viola it was love at first sight. The sound blends well with the orchestra but also holds its own in a string trio. Having small hands, the neck is thin, which is a real advantage. The viola under the chin is much lighter than other violas I have tried, which makes ease of playing. The grain of the wood is a real joy to look at and it is a beautiful viola in sound and appearance.
Maria Trittinger
Viola Player, Royal Scottish National Orchestra
---
In December 2010, I borrowed Colin Adamson's newly finished violin (1715 ex Joachim Strad model) while my instrument was being repaired. I couldn't give it back, I just had to buy it. The violin is not only beautiful to look at but more importantly, it has a wonderful sound. It is extremely responsive, with a rich tone which has lots of different colours in its sound palette. With an even sound across all the strings, this violin can project right to the back of concert halls with amazing clarity. The violin has the perfect combination of power and versatility.
Lorna Rough
Royal Scottish National Orchestra
---
I have been searching for my dream viola for the past 18 months and have tried countless instruments. I was immediately attracted to this particular viola; the rich varnish with an antique look immediately caught my attention. Most importantly, I was so pleased when I played it to discover the dark rich tone I had been longing for (which is constantly improving too!) which I can easily mould to my artistic ideas. The instrument is the right size for me, comfortable to handle, and rare for a viola; has equality in sound and articulation across all four strings. Many distinguished musicians have commented and complimented its craftsmanship and sound quality. The Maggini model is renowned for its tradition within the String Quartet genre and my colleagues in my quartet are delighted by the way the sound has really gelled with their instruments and helped to develop and improve our overall quartet sound. It is really nice to set-up a professional understanding relationship with Colin; all my minor changes such as a different tail piece and pegs have been carried out and we have kept in touch with regard to the viola and other concerts I am playing in. He gave me plenty of time to consider the instrument, has been totally supportive in all aspects and has shown a genuine interest and care in my dream of music-making. I am delighted to have found my viola.
Robert Guy
Professional Viola Player & Conductor
---
I am the proud owner of two violins by Colin Adamson. My first Colin Adamson instrument was
made in Edinburgh in 2004, modelled on Stradivari`s famous violin of 17 known as Il Cremonese and once owned by Joseph Joachim.
Colin has produced a violin of real stature, the instrument is handsome to behold, made from well chosen wood and finished with a warm, subtle translucent varnish. The sound is strong, full of quality and is
truly a solo instrument capable of filling any large concert hall.If you are looking for an instrument that is immediately responsive, expertly made and with a sound that has volume, and quality, then this model is for you.
My second Colin Adamson instrument was made in Edinburgh in 2006, modelled on the Guarneri del Jesu of 17. known as " The Lord Wilton" and was owned by Yehudi Menuhin. Here Colin has produced a violin of intense beauty, the varnish is especially warm and the sound although predominantly dark in nature is
also wonderfully complex and capable of many different colours. If you are looking for an instrument that is more introvert than extrovert but yet at the same time with a sweetness of sound that penetrates to the back of a hall then this model is for you.
In both instruments I particularly enjoy the evenness of sound over all four strings. I enjoy the choice
provided by the bright, soprano, extrovert character of the Sradivari model, contrasted by the dark, alto, introvert character of the Guarneri model. The art of violin making has been alive and well in Scotland for centuries and recent recognition of it's outstanding quality long overdue. I am quite confident that Colin
Adamson is continuing that Scottish tradition and that his instruments will add to it's growing reputation around the globe. I am delighted with my Colin Adamson violins and recommend them whole heartedly to
all lovers of the violin.
Angus Anderson
Member of BBC Symphony Orch. Principal of BBC Scottish SO, Associate Leader of RSNO, Leader Scottish Opera Orchestra, Member of The Philharmonia.
---
I have now been playing on one of Colin Adamson 's Strad copies since December 2009 and have used the violin for several orchestral solos for Radio 3 broadcasts and for several solo recitals. The violin produces the most beautiful bell-like, crystal clear tone in the upper register , in particular at the top end of the E string . The lower register yields the most wonderful deep sonorous tone that stays even in the high G string positions . Overall the violin is extremely responsive and produces and excellent projected tone. Aesthetically, the violin is beautiful . The varnish has a deep lustre and the craftsmanship in the making, is of the highest quality. The scroll is quite perfect. These tonal and aesthetic qualities are common traits in all of Colin's violins that I have tried and I have absolutely no reservations whatsoever in recommending and endorsing Colin Adamson's violins to any professional violinist in the hunt for an affordable quality instrument .
Bernard Docherty
Co- Leader: B.B.C. Scottish Symphony Orchestra
---